Our camping safari packages in Tanzania are carefully chosen to offer you the best camping safari experience available in Africa. The camping safaris can be fully serviced where the guides and support staff put up and strike the camp, and take care of every detail, or self serviced (Budget)where you are expected to help setup camp and cook a little.

We give you that bit extra that no other safari company provides

A 3person tent for 2 clients = 33% more space !

BUDGET CAMPING INFO :

"

One person's semi-luxury

camp

is another's

budget camp

"

When you choose budget camping we assume you know what it means to go backpacking. This is a no frills trip, and you must come with an open mind. Budget Camping in Africa is very different from Europe and the West. You must have the zeal to rough it out and expect the unexpected. If your looking for an adventure and ready to take all the changes that may come about during the trip this is the trip for you. There is no better way to see Africa then to feel the local pulse through Budget Camping. You have to be able to fight the elements you will face in the bush and sit around a fire on a cold night while being served a regular meal sometimes native to a local Tanzanian. Most travelers have the mis-conception that during a budget camping trip your every need will be met. You might arrive at an overcrowded campsite with no running water. Being public campsites upkeep is generally a problem and Pit toilets are common.( sometimes not that clean ) Please note that when you are offered a camping safari, unless it explicitly says Luxury or Semi-Luxury Camping safari , it is a Budget Camping Safari.

On the upside - you will be one with nature , are very flexible with your tour plan and can change the program to your desire, interact with other tourists from all over the world some of whom will give you valuable tips as to where they spotted game in the bush or where the best local shopping spots are. You will learn new cultures and meet new people. The atmosphere being informal, you may assist in cooking , learn to pitch up a tent and make a local Tanzanian Specialty.

Fay Safaris cannot and will not hold itself responsible for 3rd party services at public and government campsites that are totally out of our control. However while on a budget camping safari with us in case you are not happy with any campsite, we will be happy to move you to another place or offer you alternate accommodation at an additional cost.



The Camping Safari Itineraries are the same as Lodge Safari Itineraries but cost a lot less click here to see the Safari Itineraries.
PUBLIC CAMPSITES:
Campsites inside Campsites inside the parks:
At Arusha National Park Campsite is called : Arusha campsite
At Tarangire National Park : Tarangire Campsite/Wild Palm
At Manyara : Manyara Campsite/Twiga Camspite
At Karatu : Kudu Campsite
At Ngorongoro : Simba Campsite
At Serengeti : Seronera Campsite/Lobo Campsite
The campsites are NOT fenced, so animals do tend to come close
Most of these campsites have pit-latrines. Water for showers, although usually available, is not guaranteed.
Campsites outside the park:
Twiga (outside Manyara), Kudu (at Karatu, near Ngorongoro), Wild Palm (Outside Tarangire)
Twiga & Kudu: have running water, flush toilets and bar
Please note that you would not encounter any animals in campsites outside the park. There are government camping fees charged in addition to our camping charges should you want to camp inside the park
---------------------------------------------------------------------------
SPECIAL CAMPSITES
These cost US$40 per person per night more than Public ones. No toilet or shower facilities available, however there is privacy at these campsites as they are less crowded. Here we suggest you opt for Semi-luxury camping as showers are provided on that option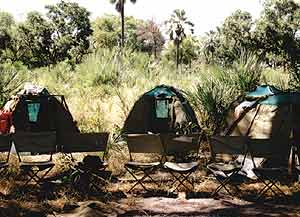 OUR PRICES INCLUDE: Transport in a 4 x4 wheel drive vehicle with driver/guide, 3 meals a day whilst on safari, budget camping equipment, park, camp and crater fee, cook accompanies the tour but left behind while on game drives.

OUR PRICES EXCLUDE: Drinks, bottled water, visa, medical and evacuation fee, laundry, personal toiletry requirements, personal and luggage insurances, sleeping bags, and all items of a personal nature